Rex Ranch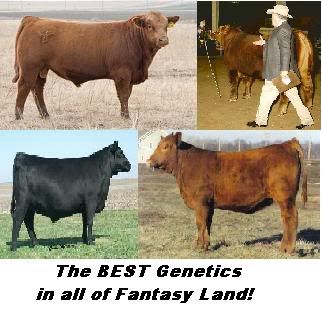 Thank you for checking us out at Rex Ranch.

Update to our Breeding Philosophy (August 25, 2018) I have been trying to develop animals with 40 day numbers of Topline 16, Hindquarter 16, Stifle 6, Capacity 14 and also have scores for bone of 12+ as well as a neck of 11+. I really like to see the stifle muscle at 6+. Some of the cattle I have recently tested indicate that it is possible to get Angus cattle to 17/17/6 on custom rations. To try and get these numbers, I am going to stop paying any respect to neck extension. I'll try to maintain 11.7+ bone. But, I really want to get 17/17/6/14 on the same animal as soon as possible and I will have to sacrifice something to make it happen. I have been selling short necks regularly, but those turned out to be some of the best cattle in the simulation.

The way I name calves is as follows: If they meet all the standards I judge at birth, they will get just a Rex prefix with a family name and the date of their birth - REX ROY 816A. Meaning an Angus calf out of the ROY family born on 8/16. If the calf only has one major flaw, then the capacity shows up with the name - REX 102 ROY 816R. Meaning a Red Angus bull calf with a birth capacity of 10.2. If there are more than one major flaw but the calf has good structure, the name would have the capacity and SS - REX 96 ROY SS 816A.

At this time I am no longer able to buy new animals to use in my breeding program as I am rigorously testing the bloodlines that I currently have available. I will still have sales often from among those that were kept back for testing. In some cases, those kept with a short name will not have the muscle test we are looking for. When this happens, you will see a 20 day old calf with a short REX ROY 816A type name and yet it is offered for sale before it turns 30 days old. This probably means that it didn't meet the muscle standard. That doesn't mean it is a bad calf but that it just didn't live up to the standard that has been established. It could also mean that it did live up to all the standards but is not the top calf out of the flush when they get to 30 days. Some times I only keep one calf to make a parent and sell all of the others.

Thank you for your work at showcattle.com!