Rex Ranch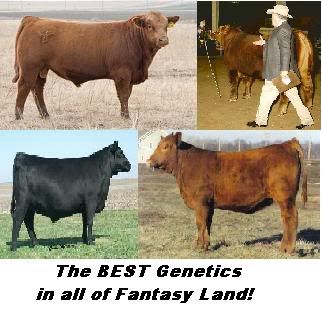 Thank you for checking us out at Rex Ranch.

Update to our Breeding Plan and Goals (August 25, 2018):
I have been trying to develop animals with 40 day numbers of Topline 16, Hindquarter 16, Stifle 6, Capacity 14 and also have scores for bone of 12+ as well as a neck of 11+. I really like to see the stifle muscle at 6+. Some of the cattle I have recently tested indicate that it is possible to get Angus cattle to 17/17/6 on custom rations. To try and get these numbers, I am going to stop paying any respect to neck extension. I'll try to maintain 11.7+ bone. But, I really want to get 17/17/6/14 on the same animal as soon as possible and I will have to sacrifice something to make it happen. I have been selling short necks regularly, but those turned out to be some of the best cattle in the simulation.

Update to our breeding plan and goals (12/8/2018):
We are now able to produce animals with a composite score (Topline, Hindquarter, Stifle, Capacity, bone and neck at 40 days) of 78.0+ regularly. The current group of Floodwater, Willie, and Nike calves are hitting 17.5/17.5 for topline and hindquarter, 6.5+ for stifle, 15.0+ for capacity and 12+ bone. I am using animals as low as 10.5 neck and in some instances 11.5 for bone. My donors and sires though are currently averaging 17.0/17.0/6.3/14.8 with 12.0 bone and 10.8 neck. And some are exceeding each of these numbers as an individual score. I now think it is possible to produce Angus that are 18.0/18.0/7.0/15.5 with 12.0+ bone and 10.5+ in the next generation. In producing this next group, I am going to pay closer attention to the structure (frame, front shoulders, and hind legs) of my breeding herd. However, the highest composite score to date is Floodwater at 78.7 and does not excel at structure. In the next generation, I believe I can produce 81.0 for composite scores. I will always labor to share the genetics as the standards rise and am always willing to buy breeding stock from other breeders. If you guys are getting animals with stifle above 7.0 or capacity above 15.5, please let me know. I'd love to have a chance to buy some of your cattle to use on mine.

Thank you for your work at showcattle.com!