Boerjan Show Cattle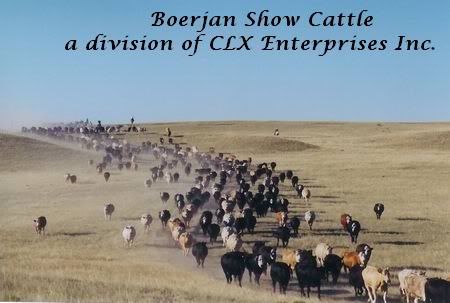 WELCOME TO BOERJAN SHOW CATTLE
***A division of CLX Enterprises***

Here at Boerjan Show Cattle, we dabble into almost every breed imaginable. We are currently working with Pinzgauer cattle to get a nice Pinz influence into our cattle for Pinz show steers.
In the past, we were known for our British Cross cattle and we have started a new and improved Brit herd.

CURRENT PROJECTS

Pinz Cross Cattle
ChiAngus Cattle
SimAngus Cattle
Bringing back the White Shorthorns

Thanks for looking!

PS>>>> We are ALWAYS in a buying mood, especially for feeder heifers and shorthorn females. If you have anything up for grabs, please, don't hesitate to send us an email with a link.